Meet Designer Jenny Noto
It's always hat weather in our little city by the bay. One of our favorite hat designers is Jenny Noto (wanded527). Her designs are super cute, unique and fun to knit.
We had a chance to ask Jenny some questions. 

1. Where are you located?

I'm in Waukesha, Wisconsin. Grew up in Southern California though! (Cerritos) 
 
2. How did you learn to knit and when did you start on your design journey?
My grandmother attempted to teach me how to knit and crochet way back in the day, but I could never get past a scarf and was constantly adding/ subtracting stitches.. oops. I eventually taught myself how to crochet, mainly to make amigurumi, but I wanted that other skill: KNITTING. I vowed to learn before my firstborn turned 3, and I almost made it! I've been knitting since mid-February 2019! Then I couldn't stop. It felt so amazing to be creating again - something I felt I was meant to do. One of the first things I knit was a sweater for my little boy! 
For the first months after I started knitting, I found a lot of patterns to be lacking in specific and clear instructions. I was also quite bored with simple knit and purl stitches, basic cables, and wanted to learn new techniques. So I decided to try my hand at making my own. Hats are quick and fun, but what I love best is the crown. My very first pattern was released in November 2019 and many more followed. Not all are winners, but some I will definitely go back to revamp (like the Slughorn Beanie). 
 
Pictured: crown of Nymphadora Hat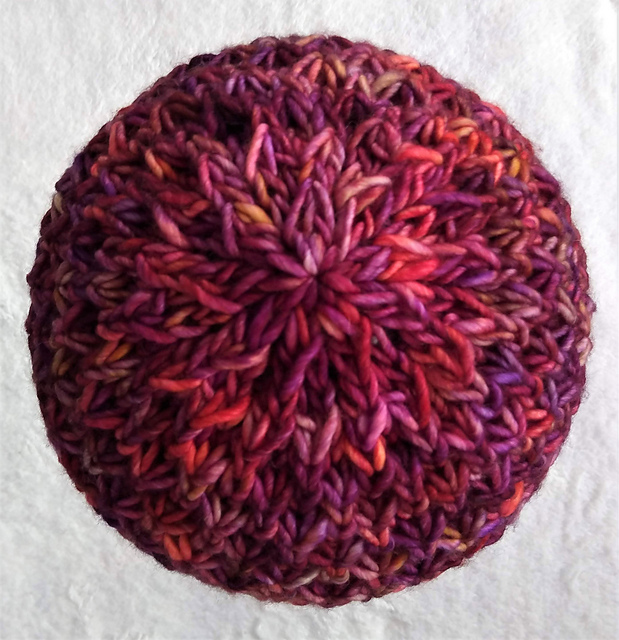 3. What inspires you?

I love designing with texture and using techniques to produce different results. As for inspiration, I chose the wonders of the wizarding world. I think we can be inspired by anything around us, be it colors, nature, food.
I am trying to work on being more comfortable with colorwork designs because the possibilities are endless!
 
4, Is there anything you'd like our customers to know about you?

I'm pretty much a one-woman show over here. I have 2 little boys who are always my priority, so it may take me a while to get back to people with answers to questions. I have received some pretty rude emails, so this isn't just for me, but for contacting ANYONE - please be courteous and respectful. You will catch more flies with honey than vinegar.
  
Click here to see our collection of Jenny's designs. Stay tuned - more are on the way!
You can check out more of Jenny's work:
Instagram: https://www.instagram.com/wanded527/
Ravelry: https://www.ravelry.com/people/wanded527/
Etsy: www.etsy.com/shop/wanded
Website: https://wandedknitandcrochet.square.site/
Blog: http://wandedknitandcrochet.wix.com/blog
Facebook: https://www.facebook.com/wandedknitandcrochet