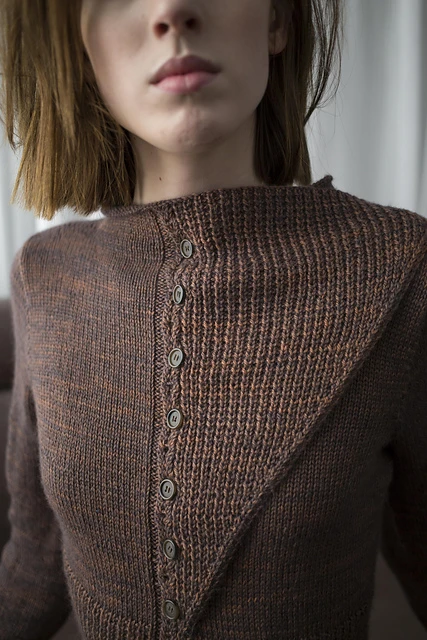 Metropolis by Norah Gaughan is worked in one piece from the bottom to underarm, then split into the back and two fronts. Sleeves worked in the round to the sleeve cap. The set in sleeves and shoulder seams add stability.
Sizes / designed to fit bust 30 (34-38-42-46-50)" or 76
(86-96-107-117-127)cm
Shown to fit bust size 34" or 86cm
Garment measurements
@ bust / 32 (36-40-44-48-52)" or 81 (91.5-101.5-111.5-122-132)cm
length / 17 ½(18-19 ½-20-21 ½-22)" or 44.5 (45.5-49.5-51-54.5-56)cm
Materials / Road to China Light (comes in 50 gram hanks)
agate / 6 (7-8-9-10-11) hanks
Norah Gaughan for the Fibre Co.
My goal for this collection was to design interesting modern pieces that are easy and relaxing to knit. I reduced seaming, kept shaping easy to remember and placed pattern where it remains uninterrupted. A broad range of sizes coupled with novel shapes combine to make a collection meant to appeal to eclectic knitters of all ages. I look forward to seeing how each knitter makes the patterns their own.
This pattern is a PDF that will be fulfilled using the Ravelry LYS program after purchase to ensure payment is made directly to the designer. The PDF will be e-mailed to you upon fulfillment. Please note, this process is done manually during business hours (11am-5pm Pacific Time). If you prefer to purchase the pattern directly from the designer, you can do so here.