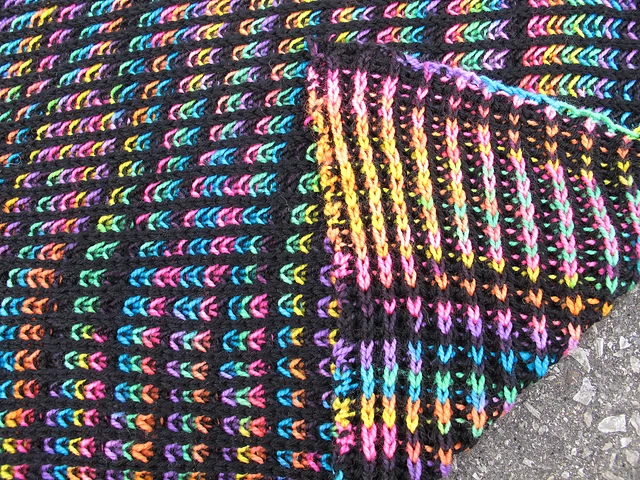 Lemon Difficult by Kate Atherley is a super fun knit!
************
Admit it. You've got one in your stash. That skein of one-of-a-kind limited-edition crazy-variegated sock yarn that you just couldn't resist? The one with all the colours and the fast changes and the overall craziness? The one from the charming little indie dyer at the fiber festival? The one in the sale bin at the yarn shop with the hilarious name? The one you created by accident in a misguided home dyeing experiment?
Yeah, that one. This pattern is for that one.
In my case, it's Western Sky Knits Aspen Sock in "Rainbow Bright".
I adore these yarns, but they can be difficult to use. Very Difficult. In socks, they create busy stripes that are messy and muddled. They resist lace patterns, and in garter they pool and create strange collisions.
Adding another colour (in my case, plain black) calms things down a little, and using the crazy colour as the background to a two-colour brioche rib creates spectacular shadow and relief effects.
This pattern creates a slightly asymmetrical triangle shawl that's smooshy and warm and easy to wear. Depending on how crazy that crazy skein of yarn is, you can create a true statement piece…. Or something that shows off a more tasteful but still busy colourway in a clever and subtle way.
Don't be intimidated by the brioche: oddly, it's easier to work in two colours than one, as it's easier to see what you're doing. These instructions are detailed enough that even if you've never tried it before, you will be able to manage it. It does require a little attention, but once you get the hang of it, it's not difficult. This isn't necessarily TV knitting, but it definitely would go well with a good audiobook or podcast.
The size is entirely flexible: you work until the piece is the size you want. I used 50gm/approx 200yds of each of two fingering weight yarns, but you could go larger if you wish.
Finished Measurements:
Approximately 52in wide x 21in deep 
It's knit using size US 6 needles. 
Gauge: 15 sts and 22 rows = 4" in 2 color brioche
This pattern is a PDF. We will email the PDF to you during business hours (11am-5pm Pacific Time).