Neko Curved Needles
We've got some new needles in stock! 
Neko Curved Double Point Needles make knitting in the round easier than ever before and much more comfortable!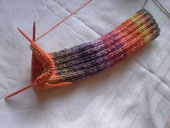 Neko Curved Double Point Needles were developed and are made in Germany.  Two needles hold the stitches and the third needle is used as a knitting needle. Stitches won't fall off of the needles! 
Check out this video to see the needles in action on a sock.  Note that it's in German but you can get the idea by watching the video. 
The needles are available from sizes US 0 to US 13 (Neko 6210) and also sizes US 15 and US 17 (Neko 6211).  We also carry metal needles in sizes US 2.5 to US 9 (Neko 6220). 
Neko also makes cable needles that won't fall off!
Try something new!