Twinkie Chan is coming to ImagiKnit!
April 14, 2016
Twinkie Chan, iconic designer of super fun crochet fashion foodies, is out with a new book Crocheted Abode A La Mode: 20 Yummy Crochet Projects for Your Home and we're thrilled to announce that she's coming to ImagiKnit for a book signing/trunk show and workshop!  Yay!
Check out this clever and adorable video about the book:
Twinkie is a brilliant designer that turns delicious foods into fabulous crochet wearables and now home accessories. Twinkie's work is so unique and you'll never know where her work will turn up. Many of you may have recently seen her Bacon and Egg Scarf on Fuller House!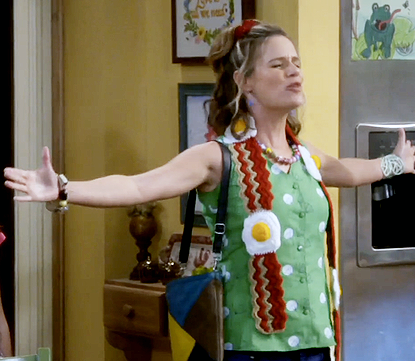 Join us for a book signing and see Twinkie's work up close on Monday, May 2 from 4pm to 7pm.  She'll also have items for sale - just in time for Mother's Day!  This event is free. 
And that's not all!  On May 12 from 5pm to 7pm, Twinkie can take you through making one of these super fun (and functional!) crochet goodies in our Crochet Workshop with Twinkie. Enrollment is only $25. For more information, visit our class schedule!