It's a Shibui Summer!
We just love Shibui yarns!  Cima, Dune, Silk Cloud, Pebble, Twig - the list goes on and we love them all!
We're excited to announce that we're hosting two Shibui events at the shop in the coming weeks!  The first is a Shibui Trunk Show featuring garments and accessories from the FW collection.  Nothing beats a trunk show to see the yarns worked up into fabulous garments and accessories.
Shibui patterns are simple, elegant and timeless.  The trunk show is from May 27 until June 7.  It's a great opportunity to get a close up view (and feel!) of the patterns.  And it's a perfect way to get an idea of sizing.  Start a project now and you'll be able to wear it proudly in the fall.
The second event is a trunk show featuring Shibui's newest yarn Rain combined with a Shibui Mix Party!  
We'll have beautiful garments and accessories made using Rain. 
Following the trunk show, our wonderful Shibui rep Britt-Mari will show us how to combine Shibui yarns (including the newest yarn Rain) to create unique fabrics and colors.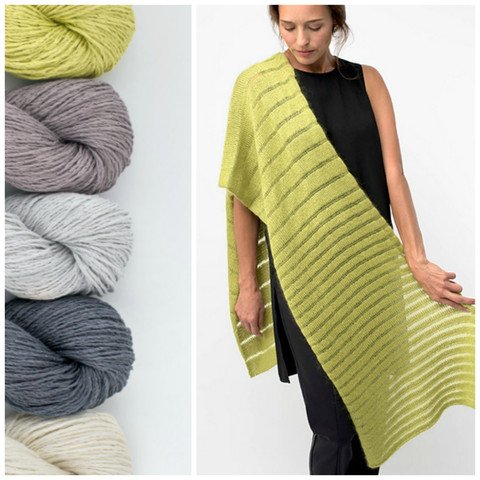 The Rain Trunk show will be on display on Thursday, July 14 from 3pm to 5pm.  The Mix Party will be held on the same day from 5pm to 7pm.  Both events are free!  To ensure that we have enough samples for mixing, we ask that you RSVP.  It's time to unleash your creativity!